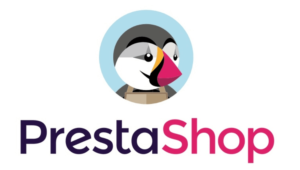 Here is the Prestashop integration! You can now link it to Hoplix via Order Desk. Read the article so you know what are the advantages of Prestashop and then why start your business with this integration and use the service Hoplix for your creations.
Before we start we remind you the advantages of Print On Demand and why start an online business.
Advantages of Print on Demand
Starting a Print on Demand business offers several advantages: the risk is minimal, there is no upfront financial expense, no need to set up any kind of logistical structure, and virtually anyone can do it. But let's look at other advantages in detail. In addition, with Hoplix you open your own store from the site completely free of charge and customisable.
Here are the basic points:
1. Cost Savings
As mentioned above, the main advantage of print on demand is that you do not need to invest in advance to purchase stock or to store it. In this way, you can open an online shop and offer a large catalogue of products at practically no cost.
2. Personalised branding
Many of the products we have are White Label, i.e. they offer the possibility to customise your products. For example, you can add your logo on the label or even customise the packaging of your product.
3. Business partners
Your success is also a success for your supplier. Your supplier can help you with all the technical aspects of setting up your shop and managing your orders, but can also provide you with valuable services and resources, such as mock-ups of images and templates to use in your shop as window pictures of your products.
4. Test new products without taking any financial risk
With Print on Demand you can add new designs or products to your catalogue and, if you notice that your customers do not like them, you can decide to remove them without losing any investment.
5. Give your customers the opportunity to personalise their product
Print on Demand services allow you to offer your sellers the opportunity to customise products to their liking, which helps you increase your conversions.
6. Focus on a Marketing Strategy
Since you don't have to deal with shipping or any other logistics aspect, you can focus your time, budget and efforts on SEO optimisation of your online shop and marketing by creating campaigns such as Facebook ADS and Google ADS.
7. Selling worldwide
Selling abroad can be challenging, especially if you are not familiar with the foreign market. Many POD providers, such as Hoplix, have the necessary knowledge and offer the possibility to store and ship your customers' orders worldwide.
OK! Now, with that little aside about the advantages of POD, let's take a look at the advantages of Prestashop, why you should choose this integration and how to link Prestashop to Hoplix. We have created a practical guide for you. Read on and you'll know what I'm talking about!
So let's start by talking about the features and advantages of integrating Prestashop with Hoplix via Order Desk.
What is Prestashop?
One of the most popular platforms in the world, Prestashop is an open source Content Management System (CMS) used to create e-commerce sites. Thanks to the work of the community, there are many Prestashop add-ons that continually improve its performance.
Unlike other CMSs, Prestashop focuses entirely on e-commerce and was designed to improve customer usability. Many professionals choose Prestashop for its ease of use, despite the fact that it is a very comprehensive CMS. Its simple structure increases loading speed and enhances the user experience.
It is well suited for the creation of unique online sales sites, as it offers a huge number of customisation possibilities. Its special feature is the separation of content, graphics and programming. In this way, each professional can deal with a different section, the web designer can customise the graphics of the site, the developer can manage the programming, the copywriter can write and optimise the content. In addition to building the site, Prestashop is also very functional for promoting your online shop. In fact, the system has integrated marketing tools that allow you to advertise your products in a simple and intuitive way. These include the personalisation of offers, email marketing, discounts and shipping.
You can also manage customer relations and shipping with this CMS. PrestaShop also allows you to reach more potential customers because it is SEO friendly. Within the site, you can optimise every detail: descriptions, URLs, images, product sheets and titles.
The functionalities and features of Prestashop
PrestaShop is software that was created with the idea of offering a customised platform for creating medium-sized e-commerce shops.
It is a very reliable solution for small and medium-sized companies as it offers a great deal of customisation.
More than 300,000 online sales sites worldwide are built with this CMS, which was chosen because its advanced functionality is well suited to businesses of different sizes.
Thanks to the availability of numerous integrated online marketing tools, in 2019 alone, sites created in Prestashop generated an economic return of around €17 billion.
Indeed, the platform allows you to connect your e-commerce site to social networks, so as to increase traffic to your online shop. In addition, it has numerous tools to optimise your e-commerce for SEO, so that you can reach the top positions on search engines and get more traffic to your site.
A central role in the success of this software is the excellent user experience. Customers can move easily between pages and can track the status of their orders. Users can also view the shop on a Google map and decide whether to visit you directly in your store.
Always with the user experience in mind and given the huge importance of sales from smartphones and tablets, Prestashop has optimised its sites for viewing from any mobile device.
If you operate in a large market and also have customers abroad, you can use Prestashop to set up your e-commerce for international sales, displaying the language of the countries in which you intend to sell and offer your brand.
Why PrestaShop?
Intuitive interface and ease of use have made this CMS the second most used platform in Italy for the creation of e-commerce sites.
Let's see in detail what its strengths are.
1. Simple to use
If you don't know any programming languages, PrestaShop is for you! Once you have created your store, you can add, edit and import your products independently.
However, configuring the store is a rather complex step for those without technical knowledge. To overcome this problem and make it easier for those who are not familiar with software, the platform has created a demo in which it explains all the steps to install PrestaShop.
Product creation, integrations, modules and order management are very easy and intuitive to manage. After creation and installation, you will find that using PrestaShop is a breeze.
2. Customizable
As an open source software, PrestaShop allows you to customize your e-commerce site down to the smallest detail. This gives you the ability to create a unique and memorable online shop.
The world of e-commerce has become characterized by a high level of competition that will continue to increase over time. This means that to stand out, you need to work on creating a unique experience and a highly recognisable brand.
Thanks to PrestaShop, you can customise your shop as you see fit, using two modules: one for quick changes and one for working on the code and making major changes to the structure. In the second module you have access to CSS, HTML and JavaScript files.
In addition to this, you can also customise
payment methods;
shipping methods;
offers;
inventory management.
In the official PrestaShop marketplace, there are many templates and themes to customise, some of which are free. Other high-level themes developed by third parties start at around $60.
3. Has an active community
PrestaShop has a large and active user community. This is a great advantage because you know that you can count on people who are always available to help you solve any problems or doubts you may have.
In a large community, it is very likely that someone will have experienced similar problems and will be able to tell you how to deal with them.
Asking for help from the community is also free and saves you the cost of customer support.
Also, as open source software, you know that it is constantly evolving. What is an obstacle today is solved the next day thanks to everyone's collaboration.
4. Very simple control panel
PrestaShop has an intuitive interface that is very easy to manage.
If you are not an experienced programmer, you will be able to navigate the control panel without any difficulty.
If you are a programmer, you can override functionality without the risk of losing it in subsequent updates.
5. Integrated marketing tools
In addition to the great customization options, PrestaShop offers a variety of integrated marketing tools.
Marketing tools are useful for managing discounts, shipping, and customer relations.
The integrated functionality allows you to control:
Customize offers;
Discount management;
coupons;
tools to manage free shipping;
email marketing;
gift wrapping;
affiliate programmes.
6. It is SEO friendly
In the Internet world, an SEO friendly site can make all the difference.
PrestaShop is designed to help you optimize your e-commerce site for SEO:
pages,
product sheets,
titles and descriptions,
image alternate text,
URLs.
This helps you rank better in search engines and reach your potential customers more easily.
7. Fast and flexible
Do you know how long it takes to intrigue a visitor and convince them to stay on your page?
Less than two seconds!
This means that the speed of a site is crucial to retaining the user. And speed is one of the strengths of this CMS.
PrestaShop's simple structure makes it light and fast, providing users with a good user experience.
8. It has many add-ons
There are many add-ons for PrestaShop on the market. The modules are created by different developers and some are available for free while others are paid for. If you wish, you can also decide to purchase individual modules.
Adding a lot of modules can be expensive, but will ensure that your e-commerce site performs well.
Generally, the expense is amortised later on as the sales volume increases, justifying the initial costs.
9. Continuously Evolving
PrestaShop is a constantly evolving solution. This CMS is implemented and improved every day by its developers and user community.
What does this mean?
It means that what is now a problem or a bug, is quickly improved and fixed with the help of the entire community.
So…
Developing an e-commerce in PrestaShop is a job that can guarantee you a highly professional and personalised site.
PrestaShop is an open source CMS with a large number of users and an active community. This can help you solve small and big problems for free by asking the community for help.
One of its big advantages is the fact that it is SEO friendly, which can help you increase traffic to your site. And, as we have already said, more traffic=more chances to sell. Speed, lightness and security make for a great user experience.
There are plenty of add-ons for PrestaShop. This gives you great performance for an expense that is paid back as sales increase.
It is a constantly evolving CMS, which is implemented almost daily. This feature allows you to have an up-to-date e-commerce site and solve problems immediately.
In addition, PrestaShop offers a wide range of native marketing tools that allow you to manage discounts, shipping, and direct customer relationships.
If you would like to find out if PrestaShop is the right platform for your e-commerce business, we would be happy to help you with an analysis.
Practical guide on how to connect PrestaShop to Hoplix!
To connect your online shop with Prestashop to Hoplix via Order Desk, you will need to follow these few simple steps:
1. Create the campaign/product on Hoplix;
2. Once the product and campaign is created go to My Account > Campaigns > go to Actions and Edit on the campaign you have chosen and created;
3. Copy the Campaign ID code;
4. Go to Order Desk > on Hoplix;
5. View available products > Enter Campaign Code > Go;

6. Copy product code that you generated from this previous action to Hoplix (I recommend you write this code somewhere or make a copy or paste on word because you will need it later);
7. Order desk > Prestashop > Enable > Enter Prestashop site URL and enter the API Keys;
8. The API Keys are always generated by going to Hoplix > My Account > Settings > API Keys;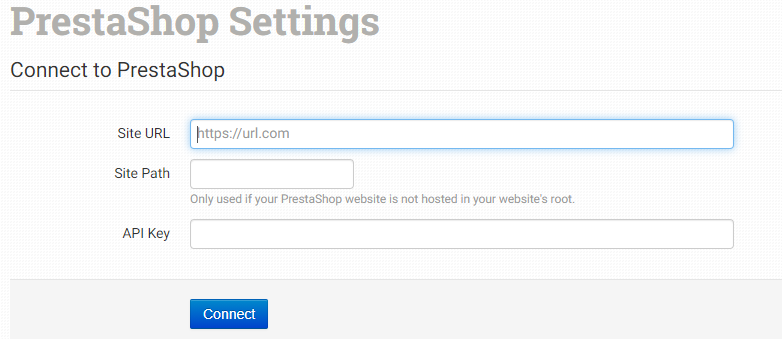 9. Then go to Product > New Product > Enter Product Name and Product Image;
10. In Reference add a code or a name of your choice;
11. Save;
12. Catalogue > Products and the product will appear;
13. Return to Order desk > Hoplix;
14. In Product Code Match, enter the reference code that you created on Prestashop and the product code that you created on Hoplix;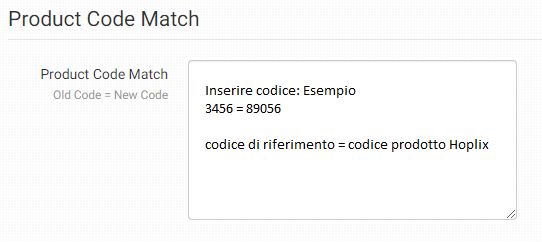 15. Save;
16. Inventory items > Enter all product data;
17. Metadata fields > Old product code and campaign code;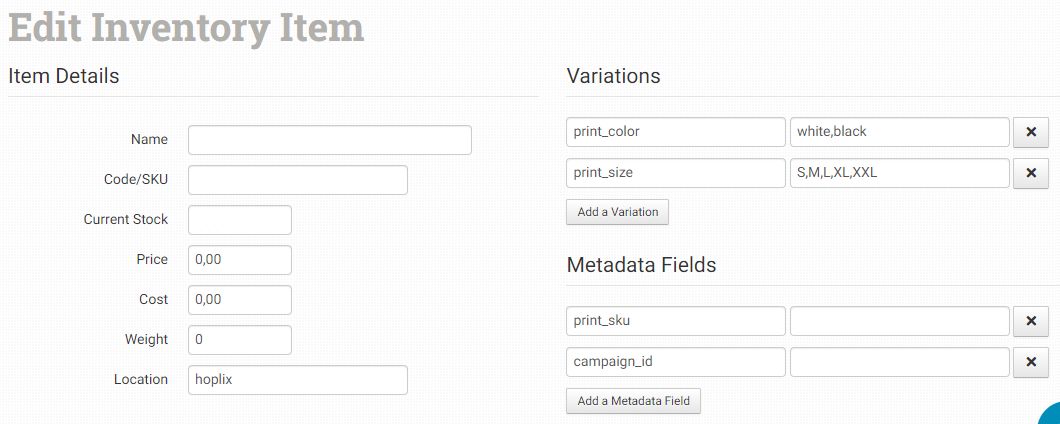 18. Once this is done go via Prestashop to your online shop and create the order.