You have decided to create your first store by relying on Print on Demand, but you don't know yet clear what the winning idea will be that will make your project fly. No problem. If you've landed here, you're definitely looking for some good tips to get started.
Starting means, in this very first phase, finding a valid idea. This will be linked to a target, a market niche, and therefore to people. People will be your main interest right away.
Starting from people and their interests
Our starting point will be to find a niche to go to and propose our products and the message we want to convey. A niche gathers a community of people united by the same interest, by a passion, by a job etc. Very often these are small communities where the common bond can be a sense of belonging, the pride of being part of a category and, obviously, of a community.
Here are some examples for a search:
interests: reading, economics, music, tv series.
hobbies and passions: decoupage, role playing, gardening, cooking, embroidery, motors.
professions: lawyers, engineers, programmers, archaeologists.
sports: swimming, football, rugby.
By analyzing one of these (or even other) areas, you will have to try to understand what are the topics, the categories of most interest and start thinking about your brand, logo, design that distinguishes you from your competitors. However, we must always keep in mind that it will not be enough for us to find a niche, because we will almost certainly run into many competitors (other sellers) who already work on it.
Rather, we can look for a large circle of people and then reach a smaller audience with less competitors. For example, our niche is made up of readers to whom we want to sell personalized bookmarks. That niche is certainly already very popular and full of competitors. We can look for a sub-niche. One of these could be a circle of readers who only read classics of russian literature. Going even more specifically, passionate readers of the napoleonic age who only read novels set during the napoleonic campaign in Russia. In this example, we will probably have a very receptive audience to the message we convey with phrases taken from russian classics, and less competitors.
Starting with yourself
Another tip is to analyze yourself: what are your interests, your passions? Which categories of people do you interact with on social networks? What groups or pages do you follow? Can you identify your area of ​​interest, your need? What is a topic that you are particularly passionate about?
After all, you too are part of one or more categories of interest, don't you think? You too are part of some niche for marketers!
Basing your brand on something you believe in can be a great place to start.
Let's take an example. You are a yoga teacher and most likely you are part of a dedicated community on Facebook and follow several influential people in this sector. Starting from this, you can try to understand:
what is the most practiced asana?
what are the most popular mantras?
is there already someone who makes themed gadgets?
are there any yoga scheduled events?
All the time you devote to research of this type will translate into an idea, innovative and original, one that your potential customers will have to like. That's why you won't have to rush to get started.
At this point you are probably wondering how to understand if the topics, the winning categories for you are actually valid and how to reach your potential audience. If you are at the very beginning, you can take advantage of a series of tools use made especially for you. Let's start with the best known tool:
Google Trends
This free tool allows you to understand the evolution of interests and how the searches trend changes over time, or how often a given word or phrase (which translate into trends) is searched on search engines in a given geographical area and in a given period. You will have the possibility to set a category (cars, food, games, etc.), the Google services consulted (Google search, Google images, Google news etc.) and a time frame (last hour, last day, last 12 months and so on). Always keep in mind that the numerical data obtained does not indicate the absolute number of searches but relative values ​​from 0 to 100.
Google Trends will also show you in which location or region your term or phrase recorded the most searches during the selected time period and related topics. The related topics are those searched by users and which are attributable to the one we analyzed. Another analyzed field by Trends are associated queries, i.e. the terms searched by users who have shown interest in the word we are analyzing. Finally, you can also compare words or topics to figure out which is trending the most.
It goes without saying that this tool is very useful to understand if the data relating to the search for a word or topic actually correspond to what we think. The results are not always predictable and obvious.
Keyword Research
Keyword research are tools that help us to intercept the greatest interest topics and position ourselves on them by understanding which are the most used words in the searches of our target audience and what is the search goal. Using these tools you will discover, for example, which are the most frequently asked questions related to that word, but also words related to it and others that refer to the same topic that interests you (for example synonyms).
Some tools allow you to know very useful values ​​such as the search volume, the average search seasonality of keywords, the main topics related to them or the most suitable terms to use. It is clear that keyword research also assumes its importance when defining the promotion strategy of a site, a brand, an e-commerce, a product etc. For this reason it will be important to understand the audience's search objective (purchase, information, etc.) and avoid using keywords simply to optimize our content, but without achieving results.
Some free Keyword Research:

Facebook Audience Insights to search for interests
Facebook Audience Insights is a terrific free Facebook tool that helps us to deliver targeted campaigns to target audiences, but that's not all. In fact, as a starting point, we can use it to learn about our ideal client interests: favorite books, followed celebrities, beloved tv series, what sector he works in, what he studies and so on. Being able to discover all these things means being able to reach potential customers by getting closer to their tastes.
If, for example, we are at the beginning and we want to sell t-shirts dedicated to Italian men aged 60 and over, we can start from this category and narrow the field to discover their interests: for example, we can try to understand which pages are closest to this type of audience, i.e. on which pages our target audience is most present.
If, for example, we are at the beginning and we want to sell t-shirts dedicated to italian men aged 60 and over, we can start from this category and narrow the field to discover their interests: for example, we can try to understand what pages closest to this audience type, i.e. on which pages our target audience is most present. We can do this using the like tab on the page. We may find that italian male audiences aged 60 and over frequent pages that we would not have expected. Another skimming type can be done with the place and activity tabs (in which geographical area our potential customers are most present and the number of times they have carried out certain activities such as comments or likes).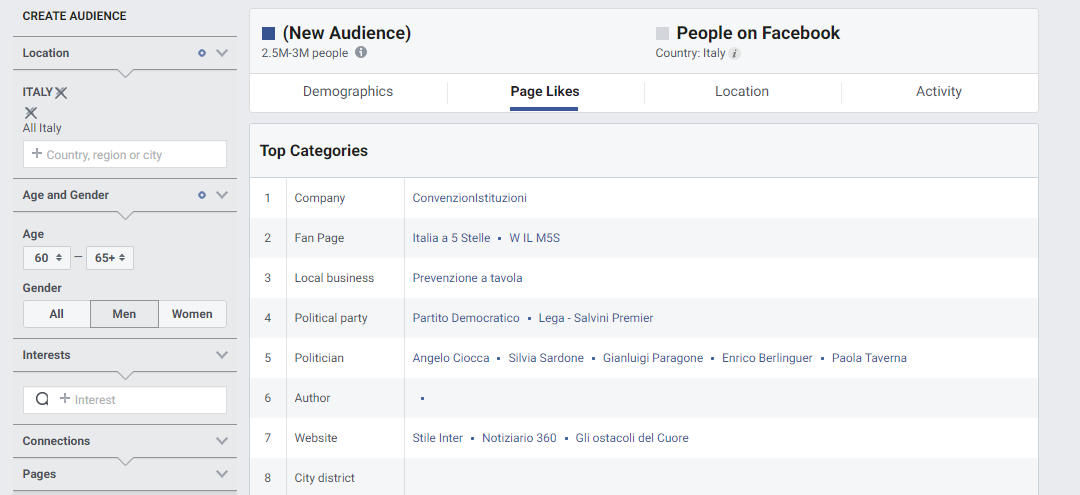 At a first glance we can realize that our target audience is interested in politics and football. It is quite evident how profoundly useful this tool is by taking a very simple example. Everything will come from the time and dedication you decide to use to get your project started.
In the next article we will talk about how to get successful designs for your new project. Are you ready?